I fell in love with the breed in the '90 and I got my first chow in 2000. I started to breed chow-chows in 2006. in Novigrad-Istria (Croatia) when I founded and registrated my kennel under the affix of "SHEN TE CHOWS" ,  "Shen Te" in chinese language means divine.
In 2011 I moved from Novigrad (Croatia) to Belgrade so I moved my kennel too.
I am International judge for FCI group V (all breeds) from 2013 and for group IV from 2015.
I am very thankful to Mrs Isabella Milani (Ceppo Rosso kennel) for all her help and advices, she is a lighthouse for our beloved breed.
The first Shen Te Chows litter was born in 2008. Breeding is an art, intuition, analytics, love and passion. Breeding starts with a vision, a dream and a dream dog in our minds. Our goal is the "complete" chow chow with exceptional temperament, structure, health and beauty…show dogs and companions. The "dream chow" that our kennel is working towards is rapresented in lines being used all over the world, bred to be balanced and to enjoy a long life as a result.
I am especially proud of our achievements and placements on Club shows especially on the Raduno in Italy where our Diamond Shen Te Chows won Absolut Best In Show – Carmen Sylvia Serandrei trophy 2017, Famous N' Know It Shen Te Chows 1st place in Puppy class, King of My Heart Santa Heart 4th in Intermedia, Ch Life's Storm Apocalypse for Shen Te 4th place in Champion class, Best Breeders group & Best Progeny out of King of My Heart Santa Haus; Ch Shen Te Chows Nelly Raduno 2014 – 1st place Puppy class females, Raduno 2015 – 1st place Intermedia class females, Raduno 2016 – 3rd place Open class females, Slovenian Clubwinner, Slovakian Clubwinner; Best Female Puppy Raduno 2016, 2nd Best Male Puppy Raduno 2016…some older achievements as Purina Pro Plan Cup Croatia 2009, Purina The Best Puppy 1st place and Purina The Best Puppy 3rd place, Top Ten Croatia 2010. Best Dog of FCI group V and 2nd Best Dog of FCI group V  and 4th Best Junior Dog in Croatia for 2010, 2014, 2015 and many placements at Speciality shows and a lot of placements at Clubmatches,  Best in Show wins and a lot of Group placements.
Our dogs are in the next foreign countries: Croatia, Serbia, Slovenia, Bosnia, Belgium, Estonia, Belorussia, UK, France, Ireland, Germany, Austria, Italy, Greece, Switzerland, Spain, Nederlands, Sweden, Denmark, Slovakia, Romania, Bulgaria, Macedonia, Canada, Czech Republic, Phillippines, Estonia, USA & Indonesia.
WE DON'T BUY CHAMPIONS, WE PRODUCE THEM!!!
Till now we bred a lot of Champions, Multichampions & International Champions and we always try to get out the best for the breed. You can find out the list of some dog shows we took part in the section News.
ANDREA JURCAN, International FCI judge for group IV and V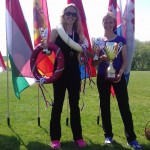 Phone (Viber, What's up, Messenger):
+381641693469

E-mail: shentechows@gmail.com

For email You can also use a form at the top right corner.